Monks living in a strict cloister here in America. Barefoot nuns walking around in the 21st century.
I recently had the privilege of speaking with six very special people, all religious—two priests, a brother, and three sisters. I was interviewing them for an assignment for Our Sunday Visitor Newsweekly, but I received a lot more than information for my article.
One thing I thought I could do with this wealth is to share here some inspiring things about each of the orders. Who knows, maybe it will help someone in discerning their vocation.
So first off: the contemplatives.
I was really impressed with the Carmelite Monks of Wyoming's presence on the worldwide web. That's right—very traditional Carmelites with a super savvy website. You may have heard of their line of coffee: Mystic Monks.
This month they're featuring Ethiopian Yirgacheffe, and Chocolate Caramel Coffee. The Vespers Decaf appeals to me: "Our brand new, dark roasted decaf: rich and bold with bittersweet chocolate notes."
They also sell a variety of teas, coffeemakers, brewing equipment, mugs, T-shirts, hats, etc., with the Mystic Monk logo. They roast and package the coffee and ship the merchandise themselves.
But what's more striking is that they do all this from their cloister in the mountains, and it fits right in to their life of prayer and dedication to God. The OSV article deals in depth with the intertwining of prayer with work and every aspect of their lives, which they have given to God.
As their website puts it: "Desiring to become great saints, [we] have a vehement longing to live the entirety of the spirituality and way of life established by St. John of the Cross and St. Teresa of Jesus ..., including strict monastic enclosure, two hours of contemplative prayer daily, study and spiritual reading, and manual labor." (That's in addition to Mass and praying all the "hours" of the Liturgy of the Hours, by the way.)
And I just love this description: "Doing battle under the banner of Our Lady of Mount Carmel, the Carmelite monks are the Navy Seals, Green Berets, and Marines of the Roman Catholic Church in a virile, ancient tradition of prayer as contemplative monks."
Evidently, they're doing something right. Many young men are interested in joining them: they received over 300 inquiries in just one year!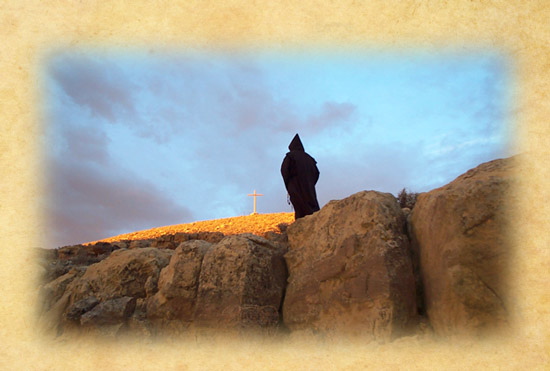 To learn more about the Carmelite Monks of Wyoming, visit their website, which provides an abundance of information.